Looking Out the Window in the Local Area:We finally have some spring bulbs making their early appearances:
On March 3, Snowdrops started blooming in the GW's garden in the City of Pittsburgh, Allegheny County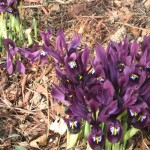 On March 8, Siberian Iris began blooming in South Strabane, Washington County.  Thanks to Brian Dunst for contributing the photo.
On March 15, Coltsfoot (Tussilago farfara) started blooming in the GW's garden.  It's bright yellow flowers and fluffy white seed heads are often mistaken for Dandelions, but they flower much earlier, and their leaves are much larger and actually resemble a colt's foot.  Nicknamed "Son-Before-the-Father" because it blooms before its leaves emerge, it has traditional herbal medicinal uses as an old throat and cough cure called "Colt's Foot Rock."
Let the Garden Witch know what's blooming in your area.  Photos are welcome.  Don't forget to include your name for a photo credit.